Orthopaedic Surgeon- Shoulder & Elbow Surgery
Dr Minoo Patel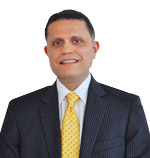 Dr. Minoo Patel


Shoulder & Elbow Surgeon
MBBS, MS, FRACS
Dr. Minoo Patel is Senior Lecturer in Adult and Pediatric Orthopaedics at Monash University and Monash Medical Centre.
He trained in Melbourne, Sydney, Bombay and the USA and obtained his MS orthopaedics in 1989 and FRACS in 2000. He trained at the University of Maryland Centre for Limb Lengthening and Reconstruction, Baltimore, USA under Prof Dror Paley and Prof John Herzenberg, in Limb Reconstruction and Pediatric Orthopaedics. He also trained at the Massachusetts General Hospital and Harvard University, Boston, USA in Orthopaedic Hand and Elbow surgery with Prof Jesse Jupiter. He did his Shoulder surgery training with Prof Geroge Murrell and Hand Surgery training with Prof. Bill Cumming at the St. George Hospital and University of New South Wales, Sydney. He has been a traveling Fellow at the Hospital for Special Surgery, New York with Prof Robert Hotchkiss (Hand and Elbow) and Wrightington Hospital and University of Manchester Hand and Upper Limb Unit with Prof. John Stanley. He is currently writing his Ph.D. with Prof Murrell at the University of New South Wales on 'Membrane Guided Bone Regeneration'
Tel: (03) 9429 8084
Fax: (03) 9429 4045
Office Hours: Monday thru Friday: 9:00am to 5:00pm (except holidays)
E-mail: info@shoulderelbowsurgery.com.au
Website: www.shoulderelbowsurgery.com.au
For appointments, please contact Central booking office and if you would like to be seen at McCrae, please advise the office that the appointment be booked for McCrae Specialist Centre.