Geriatrician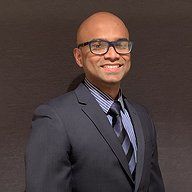 Dr Navin Amarasinghe
MBBS FRACP
Geriatrician and General Physician
https://rosebudgeriatrics.com/
Dr Navin Amarasinghe is a highly qualified and experienced specialist Geriatrician and a General Physician in the Mornington Peninsula.
Dr Navin completed his MBBS in 2006 from the University Of Colombo, Sri Lanka with honors. After migrating to Australia in 2009, he underwent his initial post-graduate training in Tasmania. After successful completion of the Royal Australasian College of Physicians examinations, he moved to Victoria for further specialist training.
Dr Navin underwent most of his specialist training at the Alfred hospital, Melbourne. He has undergone dual training in Geriatric Medicine and General Medicine. During his training in Geriatric Medicine, he has had extensive training in all areas, including comprehensive geriatric evaluation, acute care of the elderly, memory and cognitive assessments, continence, falls assessment, and management of patients with behavioral symptoms with dementia. Specialized training in General Medicine has enabled him to diagnose and manage complex medical conditions and chronic diseases.
Currently, he also works at the Peninsula Health (including the Rosebud Hospital) as a consultant physician where he takes a special interest in chronic disease management, delirium management and falls prevention in the hospital.
In addition to his clinical duties, he is extensively engaged in the teaching and coaching of junior doctors. He has developed several policies and guidelines for the Peninsula Health. He is a member of several steering committees including the cognition committee at the Peninsula Health. Dr. Navin is also the Royal Australasian College of Physicians representative in the advisory group to the Department of Health and Human Services (DHHS) on Geriatric Evaluation and Management(GEM).
He has special interests in dementia with behavioral and psychological symptoms, delirium, falls, and chronic disease management.
Dr Navin is committed to providing excellent patient care. He is kind, compassionate, and friendly while providing a thorough and holistic medical care.